Over sixty JKS England members complete the Karate-A-Thon
Subscribe
Don't miss out on any of our new news - subscribe today and we'll keep you up to date!
Published
Wednesday, February 18, 2015
Over 60 JKS members, representing nine clubs, took part in the JKS England Squad Karate-a-thon fundraising event on Sunday 15th February. Led by England squad coach Matt Price Sensei a team of nine squad members taught a variety of lessons of a period of twelve hours.

The event commenced at 8.00am, which meant a very ea
rly start for some, the Can Do Martial Arts Team travelling all the way from Oxfordshire and the Traditional Karate and Fitness Team from Norfolk. It wasn't long though before the bleary eyed were energised into action during the warm up by Junior Squad member Lewis Bradbury.

Matt Price Sensei led the first session, exploring kata with different styles of bunkai, this was followed by some traditional kihon by Craig Williams, focussing on hip movement. The first of the kumite sessions was led by Richard Fewkes, veteran member of the squad, whose session focused on developing timing using gyakuzuki. Douglas Hunter concentrated on kata performance and application, sharing knowledge that has helped him win an abundance of kata medals over the years. An excellent session by Alexandra Simon came next, the use of shoulder snap to develop speed and power in te-waza, Alexandra demonstrating how to significantly increase the impact of a strike on an opponent. An hour of footwork drills and hand speed development, by Sam Coxon, made sure everyone was kept on their toes by the halfway point, literally! More kata next as Sam McVeigh explored over-emphasis of hip movement when performing kata slowly to develop correct hip movement when performing kata sharp and fast. A lively session by mens national kumite champion Tom Little, as he put everyone through their paces with an hour of plyometric exercise. Despite this coming eight hours into the event the energy and commitment shown was outstanding! An enlightening introduction to panantukan techniques (malaysian close combat) by Ben Richardson taught defences to street fighting and how these compliment our Shotokan training. Agile feet and agile minds were required for the penultimate session by Stephen Brown, a diverse range of kumite drills made sure no one was flagging as the end of the event drew nearer. The final session was taught by Sensei Matt Price ...... an intriguing, fascinating and enlightening insight into techniques that ... well those that took part were sworn to secrecy not to impart to others! Anyone that wants to know will have to take part in a future karate-a-thon to find out what they were!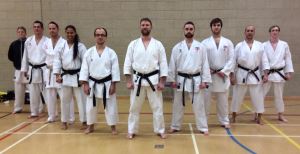 European Junior Kumite Champion Emelye O'Brien took a brief warm down ...... which was followed by three minutes of low sharp squats to finish the day!! Four minutes of mokuso allowed everyone to gather their thoughts and reflect on a physically and mentally challenging day, but one that was fun and enjoyed by everyone that took part.

The entire Traditional Karate and Fitness Team completed the whole twelve hours of training. They were joined by instructors Matt Price Sensei, Richard Fewkes and Sam McVeigh and individual participants Jesmine Patterson, Theo Sharp, Bethany Scriven and Joe Bulmer. A special well done to Jesmine, who as a 9th Kyu was the most junior grade to take part!

Participants are now busy collecting their sponsorship money and everything raised will go towards the England Squad fund!
If you didn't get the opportunity to sponsor someone, but would still like to make a donation you can do so before the 6th March. Please contact Richard Fewkes if you would like to contribute on r.fewkes@sky.com.