Two Golds for JKS England at the BKF 4 Nations
Subscribe
Don't miss out on any of our new news - subscribe today and we'll keep you up to date!
Published
Wednesday, May 21, 2014
A 25 strong JKS England Squad took part in the British Karate Federation Home Nations Championships on 17th May 2014 at the Emirates Arena in Glasgow. It was an enormous event with over 1,000 entries from England, Scotland, Wales and Northern Ireland.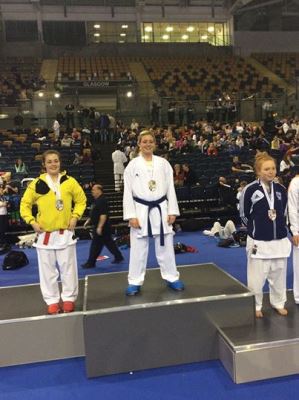 We came away with 2 Gold, 1 Silver and 7 Bronze medals, which was an excellent performance. Ashley Scott won the Senior Female Kumite -61Kg event and Emelye O'Brien won the Cadet Female Kumite +54Kg. These girls are the only two JKS England Squad members on the English Karate Federation National Squad and so it was very fitting that they both came away as Champions.

James Brown had a good day claiming Silver in Kata and Bronze in Kumite in the Under 21 Male events. Also well done to Rachel Harrison, Bethany Aldridge, Jack Brown, Zach Sharp, David Lister and Lacie Stembridge who all gained Bronze medal positions too.

The Squad next steps into action at the Cumbrian Open at Penrith in June and the Central England Open at Worcester in July, which are their last domestic competitions before they leave for Denmark and the JKS Europeans in September.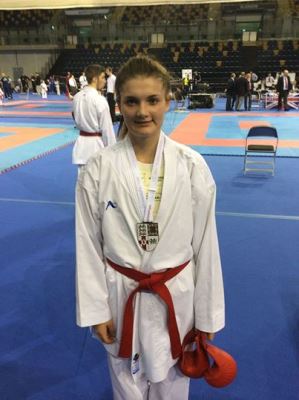 All the results are listed below:

Gold
Ashley Scott - Senior Female Kumite -61Kg
Emelye O'Brien - Cadet Female Kumite +54Kg

Silver
James Brown - Under 21 Male Kata

Bronze
James Brown - Under 21 Male Kumite -78Kg
Rachel Harrison - Senior Female Kumite -68 Kg
Bethany Aldridge - Under 21 Female Kata
Zach Sharp - Junior Male Kumite -76Kg
Jack Brown - Under 21 Male Kumite +78Kg
David Lister - Under 14 Yrs Male Kumite +45Kg
Lacie Stembridge - Cadet Female Kumite -46Kg