A great day for JKS at the Central England Open Karate Championships
Subscribe
Don't miss out on any of our new news - subscribe today and we'll keep you up to date!
Published
Wednesday, July 9, 2014
JKS England had a great day at the 18th Central England Open Karate Championships held at the University of Worcester Arena on Sunday 6th July.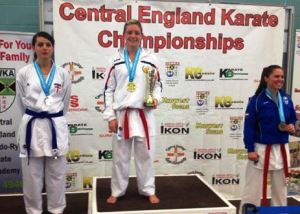 The event is one of the toughest open championships in the country and attracted over 800 competitors including competitors from Holland and Poland.

The squad came away with an excellent medal return of 2 Gold 3 Silver 10 Bronze. Well done to all participants.

This was the final domestic level competition before the team start final preparations for the JKS European Championships in Copenhagen, September.

All the results are listed below:

Gold
Senior Female Kumite -61kg - Ashley Scott
Veteran Male Kata - Douglas Hunter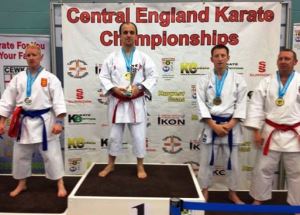 Silver
Senior Male Kumite -75 kg - Joe Hart
Senior Female Kumite -61kg - Melissa Finlay
Cadet Girls Kumite +54kg - Emelye O'Brien

Bronze
Senior Male Kumite -75kg - James Brown
Senior Female Kumite +61kg - Alexandra Simon
Adult Team Kata - Douglas Hunter, Craig Williams & James Brown
Veteran Male Kumite - Ben Richardson
Veteran Male Kumite - Douglas Hunter
Junior Male Kumite -68kg - Oliver Deane
Cadet Girls Kumite +54kg - Laura Mackintosh
Boys Kumite 13-15Yrs +63kg - David Lister
Cadet Girls Kata - Amber Bannister
Boys Kumite 10-12Yrs over 4'8" - Joe Hird