2016 Ends on a high for JKS England with the annual Christmas course
Subscribe
Don't miss out on any of our new news - subscribe today and we'll keep you up to date!
Published
Sunday, December 11, 2016
The JKS Christmas course could not have provided a better end to the year. A fantastic turnout in the busy run up to Christmas showed again the desire of JKS members to train with some of the country's top instructors. At a new venue which was altogether a little less "squeaky", the hall was full of students looking forward to the course ahead.

A welcome introduction by Alan Campbell Sensei-6th Dan JKS and Head of JKS England began by thanking everyone for their support on the course and throughout the last twelve months. Some dan certificates were presented for those successful in recent examinations next. Alan Sensei then proceeded to inform everyone of the experience of a recent trip to Japan for the JKS International Seminar. Congratulations must go to Andrew Jones of Kaizen No-Michi for passing his Yondan grading at Teikyo University as part of this course. A special mention was then made for Wendy Preston of Seibukan Karate club. Alan Sensei reserved this time as Wendy Sensei has had to work extremely hard to progress through the dan ranks without the fortune of passing first time (at least until now). Wendy Sensei passed her Yondan grading at the first time of asking despite a number of injury setbacks and Alan Sensei used her experience as an important reminder that good things come to those who wait get on and train hard. This was to be a very relevant point as the end of the course saw a massive number attempting Shodan and Nidan gradings. Wendy is a popular figure within the JKS and her karate shows the same level of attention and dedication as her organizational efforts that the association benefits from all year round.

The training started with Alan Sensei working through a variety of kihon elements. Alan Sensei stressed throughout his session the need to finish the technique fully, not just concentrating on a small part of it. Students were encouraged to pay detailed attention to their posture and weight distribution in order to add power with correct hip action in both punching and kicking. Relaxing to increase the speed, the exercises then became more challenging with double-kicking combinations and blocking-countering combinations which transitioned through nekoashi dachi (cat stance) and kokutsu dachi (back stance). Alan Sensei also utilised turning techniques to work on correct hip motion to address a huge scope of vital karate principles which would go on to permeate the rest of the course.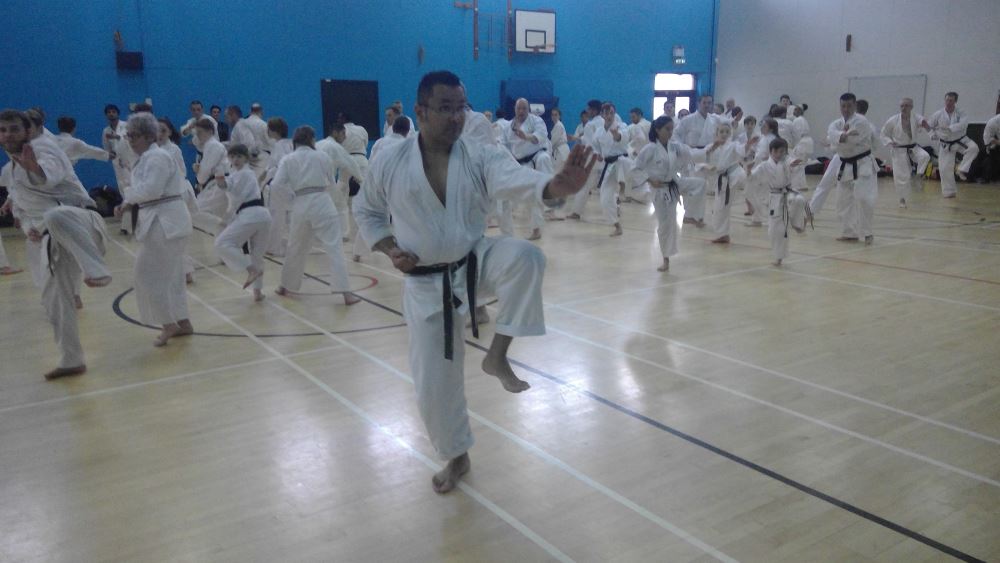 The friendly environment which JKS courses always maintain most definitely had an extra boost at the Christmas course; with the occasional smile to either side, students knew there would not be any let up in the training still to come. Students were then handed over to Hans Rana Sensei-5th Dan JKS who started with some partner work exercises to both stretch the legs and also work on other aspects such as strength and balance. With higher grades partnering lower ones it brought the class together ahead of Hans Sensei's assessment of a number of kata. Hans Sensei followed on from some of the previous classes work on ashi-barai to introduce Kyakusen Shodan. A good amount of teamwork meant that students picked this kata up very quickly and although with tired legs, focussed hard to apply the points mentioned earlier. With deep sweeps and leg movements or kicks often not covered in kihon or other katas, Hans Sensei continued to highlight the benefits of expanding knowledge to other non-mainstream kata. A short break then allowed those training some respite before the sweating resumed.

Hans Sensei then moved on to the Junro kata series, starting with Godan and working down through Yondan to Sandan. Motivating students to watch close by higher grades and keep relaxed in their movements these katas were repeated a number of times before being done at full speed by the black belts.

The course was to be concluded with Matt Price Sensei-6th Dan JKS and JKS England Squad Coach, although not until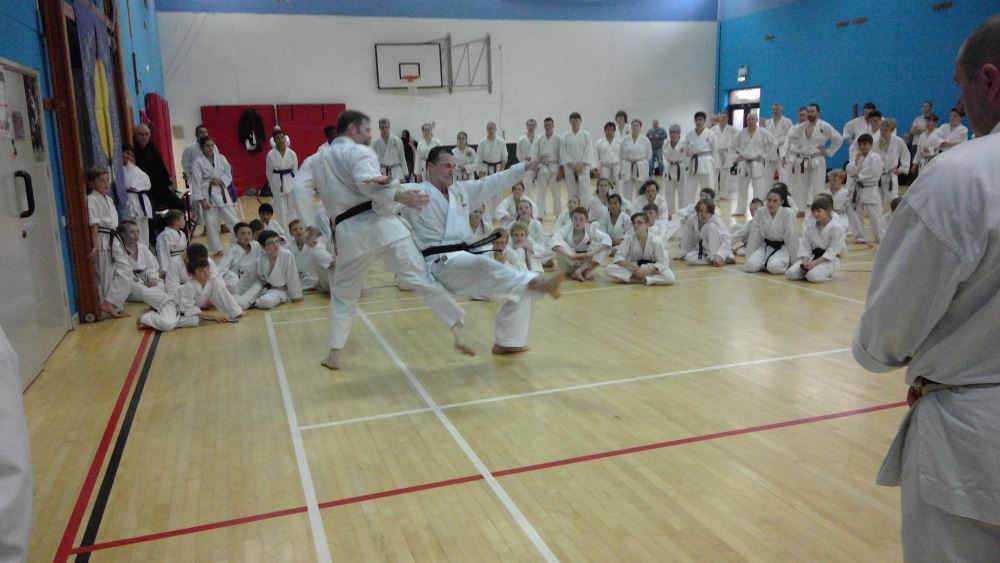 everyone had emptied their reserves in the final session! Working through kumite drills Matt Sensei delivered a session which continued the principles mentioned earlier. Working on a jiyu-ippon kumite approach, students were shown how correct reactions and speed can make the difference between successful defence or getting hit. Matt Sensei demonstrated a number of ways to use hips to both avoid the attack with tai-sabaki (body movement) and by managing maai (distance). Matt Sensei expanded on ashi-barai (leg sweep) techniques and also involved ushiro-mawashi geri (back roundhouse kick) to allow students to practice a range of defensive strategies, counter strikes and takedowns. With the students' enthusiasm ever increasing, the floor became slowly slippier and students enjoyed the unpredictability of the drills which didn't always go as planned. To end a fantastic course, students were grouped in threes to complete the full sequence which had been built up, only this time at full speed. Matt Sensei encouraged the need to keep moving or adapt the defence if necessary. Upping the ante, all students finished a great course in high spirits having been exposed to a wide variety of karate ideas.



A fantastic display from all instructors, it was almost as if there had been a plan! Critical basics and essential principles, expansive but relaxed and flowing kata and the application of these ideas in kumite is exactly what the JKS champions and spearheaded by Kagawa Shihan is exactly why it continues to grow.

A mammoth dan grading then followed the course but only after the obligatory photograph and it saw a huge number struggle through tired legs and minds to show exactly what they have been working on. Congratulations to those successful and for those who weren't this time please remember that improvement can only be made through quality training and perspiration. An instructor's meeting concluded the day with discussions to ensure all clubs are happy with elements of the grading syllabus and competitions and in line with the headquarters in Japan.

A long day to end a long year with fantastic success in all departments for JKS England and Wales. Here is to a prosperous 2017.

A dan grading followed the course and congratulations to those who were successful:

Shodan
Jacqueline Beresford - Walsall Karate Dojo
Bethan Corley - Can Do Martial Arts
Thomas Dook - York Shotokan Karate Club
Thomas Elmore - Walsall Karate Dojo
Gabby Harris - JKS Swansea
Grace Hall - TKF
Jarrell Kirkland - Seibukan
Maya Korpal - JKS Loughborough
Gary McMahon - Leeds Karate Academy
Joshua Meade - Walsall Karate Dojo
Luke Morgan - JKS Swansea
Dhilan Odedra - JKS Loughborough
Edwin Rony - Leeds Karate Academy
Richard Stapleford - Grantham Shotokan
Amy Tegetmeier - JKS York
James Terry - Seibukan
Sam Trigg - Grantham Shotokan
Emma Wickham Clews - Walsall Karate Dojo
Lucy Winn - York Shotokan Karate Club
Georgia Wise - Leeds Karate Academy

Nidan

Andrew Large - Walsall Karate Dojo
Aaron O'Neil Smith - JKS Brecon
Emmas Quinn - Can Do Martial Arts
Deepak Rana - JKS Loughborough