England records its best ever results at the JKS European Championships
Subscribe
Don't miss out on any of our new news - subscribe today and we'll keep you up to date!
Published
Tuesday, September 16, 2014
The 2014 Japan Karate Shoto Federation European Championships were held on the 12th to 14th September in Copenhagen, Denmark.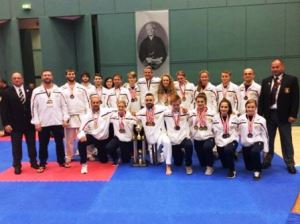 Eighteen competitors were selected to represent England at the event and were accompanied by Squad coaches Matt Price and Nick Head, Head of JKS England Alan Campbell and JKS England Cheif Referee Geoff Dixon.
After two solid days of hard competition the squad have returned home with 8 Gold, 1 Silver and 9 Bronze medal positions. This result is a huge improvement on the last European Champiions in Turin two years ago where England came away with 3 Gold, 1 Silver and 3 Bronze. All JKS England members should be very proud of their Squad. The dedication and commitment of everyone involved is now really starting to pay dividends.

Particular mention must go to Ashley Scott who not only retained her European Kumite title but was also awarded the trophy for most outstanding fighter of the Championships!

It also has to be noted that of the eighteen English competitors in Denmark, every single one came away with at least one medal. A truly outstanding achievement!

Head Coach Matt Price commented on the teams performance at the championships"all the competitors were a credit to JKS England, I was extremely pleased with all of them"




The JKS England team now start the building process again with the next JKS World Championships to be held in South Africa next year.



Our full results were:


Gold (JKS European Champions!)


Senior Female Kumite - Ashley Scott
Senior Male Koten Kata - Craig Williams
Senior Female Team Kumite - Ashley Scott, Melissa Finlay & Emelye O'Brien
Veteran Male Kumite 40-49 Yrs - Richard Fewkes
Junior Female Kumite 16-17 Yrs - Emelye O'Brien
Junior Female Team Kumite 16-17 Yrs - Emelye O'Brien, Fran Cave & Eleanor Dook
Junior Male Team Kumite 16-17 Yrs - Zach Sharp, Tom Mitchell & Oliver Deane
Cadet Female Kata 14-15 Yrs - Amber Bannister

Silver


Cadet Female Kumite 14-15 Yrs - Amber Bannister

Bronze


Senior Female Kumite - Melissa Finlay
Senior Male Koten Kata - Douglas Hunter
Senior Male Team Kumite - Joe Hart, Craig Williams & Stephen Brown
Senior Male Team Kata - Lee Lamb, Craig Williams & James Brown
Junior Female Kumite 16-17 Yrs - Fran Cave
Junior Male Kumite 16-17 Yrs - Oliver Deane
Cadet Male Kata 14-15 Yrs Lewis Bradbury
Cadet Male Kumite 14-15 Yrs - Lewis Bradbury
Cadet Female Kumite 14-15 Yrs - Lacie Stembridge