Ben Richardson and the Can Do Martial Arts Academy join JKS England
Subscribe
Don't miss out on any of our new news - subscribe today and we'll keep you up to date!
Published
Monday, July 1, 2013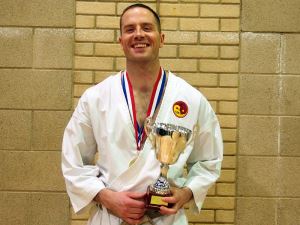 We would like to welcome Ben Richardson and the Can Do Martial Arts Academy from Oxford into membership of the JKS.
Ben is a multi talented martial artist, please read through his biography, check out the Can Do Martial Arts website (http://www.candomartialarts.co.uk) and their facebook page and say hello!
Osu.

Ben began training in martial arts over 26 years ago. Though his roots are found in Karate he has in numerous fighting systems and styles.

Ben was an England Kumite Squad Member for many years and is the 2011 & 2012 Southern Region Kumite Champion, and took Silver at the 2012 British National Championships in the male senior Kumite.
He holds a 3rd Dan Black Belt in Shotokan Karate, is a Black Belt Level 2 Instructor in Jeet Kune Do & Kali (Bob Breen, BIG) and Blue Belt in Brazilian Ju Jitsu (Roger Gracie Academy, Oxford).

Ben trains regularly in karate, Kali, Jeet Kune Do and Brazilian Ju Jitsu. He has had the honour of being invited to join Guro Dan Inosanto's Instructor programme, for which he travels to Los Angeles each year to train with Guro Inosanto (Bruce Lee's training partner and friend). Ben is currently the only qualified teacher in Jeet Kune Do and Jun Fan Gung fu in Oxfordshire under Guro Inosanto.

Ben continues to compete nationally and train both nationally and internationally to further his knowledge of the martial arts through his own experience.

Ben holds a Masters Degree in Sport & Exercise Science & is an Advanced Trainer in Speed, Agility & Quickness (SAQ).