Novice Tournament again proves to be a fantastic event
Subscribe
Don't miss out on any of our new news - subscribe today and we'll keep you up to date!
Published
Thursday, May 8, 2014
On Sunday 4th May, novice competitors from JKS England clubs gathered in York for the annual novice tournament hosted by Selby Shotokan Karate Club.

The aim of this novice competition is to teach JKS students of all ages about competitions, it is specially run for karateka with no or little competition experience .

The annual competition is for all ages, kyu grades and Shodans under 1 year tenure, but is closed to JKS England squad members. It also serves as a good practical experience for officials on the JKS England Referees, judges and table recorder program.

The day proved very successful. There were a total of 280 entries in the 13 events, a true reflection on how JKS England is growing. A massive thank you goes to Paul Brant Sensei from Selby and his team for putting on such a well run event. Many thanks also go to the officials, headed by Geoff Dixon for the professionalism displayed during the course of the day. Finally and most importantly many thanks to all the competitors, coaches, parents and other spectators that made the day so successful.

After the event a donation was made by Selby Shotokan Karate Club of £250 to support the JKS England Referees program.

There are official photographs of the event available to purchase from Robert Graham Photography (www.rgephotos.com).

All the results are listed below.

Under 9 - Mixed Kata

1. Amber Lamb (Crystal Peaks)
2. Ben Clipsham (Kaizen No-Michi)
3. Sam Peacock (JKS York)
4. Chevy Howarth (Leeds Karate Academy)

Under 12 - Mixed Kata
1. Ethan Heycock (Can Do Martial Arts)
2. Elizabeth Massey (Haxby)
3. Leah Fielding (Selby Shotokan)
4. Leo Bateman (Walsall Karate Dojo)

Under 17 - Mixed Kata
1. Mackenzie Hopkins (Seibukan)
2. Emily Crockford (Selby Shotokan)
3. Frances Dook (York Shotokan)
4. Adam Scriven (Crystal Peaks)

Over 16 - Mixed Kata - Beg to 3rd Kyu
1. Warren Bate (Selby Shotokan)
2. Xiao Wei Han (Selby Shotokan)
3. Steve Sugden (Leeds Karate Academy)
4. Harry Robinson (Grantham Shotokan)

Over 16 - Mixed Kata - 2nd Kyu +
1. Scott Haxby (Selby Shotokan)
2. Jiani Wang (York Shotokan)
3. Stephen Green (Leeds Karate Academy)
4. Joanna Fewkes (Crystal Peaks)

Family Pairs Kata
1. Dook / Winn (York Shotokan)
2. Haxby / Haxby (Selby Shotokan)
3. Stanley / Stanley (Walsall Karate Dojo)
4.Kershaw / Kershaw (Kaizen No-Michi)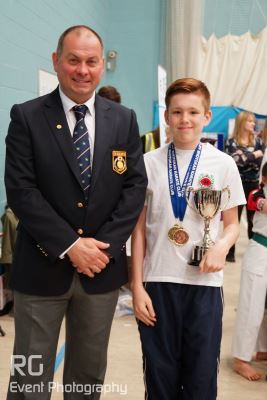 Under 9 - Mixed Kumite
1. Ben Clipsham (Kaizen No-Michi)
2. Sam Peacock (JKS York)
3. Alishia Romagnuolo (Kaizen No-Michi)
4. Luther Mahalingham (Can Do Martial Arts)

Under 12 - Mixed Kumite
1. Alice Whittington (Leeds Karate Academy)
2. Seb Mitchell (Leeds Karate Academy)
3. Myles Phillips (Selby Shotokan)
4. James Terry (Seibukan)

Under 17 - Male Kumite
1. Shaun Green (Seibukan)
2. Matthew Ross (Kaizen No-Michi)
3. Mackenzie Hopkins (Seibukan)
4. Owen Marshall (JKS York)

Under 17 - Female Kumite
1. Charlotte Haxby (Selby Shotokan)
2. Natalya Tootell (Seibukan)
3. Amelia Stanley (Walsall Karate Dojo)
4. Sydney McAleenan-Marks (Walsall Karate Dojo)

Over 16 - Male Kumite - Beg to 3rd Kyu
1. Vinny Isaacs (Akashi)
2. Tomasz Starzyk (York Shotokan)
3. Andy Grey (Leeds Karate Academy)
4. Harvey Roe (Leeds Karate Academy)

Over 16 - Female Kumite - Beg to 3rd Kyu
1. Jacqui Beresford (Walsall Karate Dojo)
2. Xiao Wei Han (Selby Shotokan)

Over 16 - Male Kumite - 2nd Kyu+
1. Scott Haxby (Selby Shotokan)
2. Dael Robinson (Haxby Shotokan)
3. Stephen Green (Leeds Karate Academy)

Over 16 - Female Kumite - 2nd Kyu+
1. Joanna Fewkes (Crystal Peaks)
2. Alison Murray (Bradford)
3. Jiani Wang (York Shotokan)

Under 17 - Grand Champion Award
Mackenzie Hopkins (Seibukan)

Senior Kumite - Best Performance Award
Scott Haxby (Selby Shotokan)