The 2015 Annual Japan trip is an unforgettable experience
Subscribe
Don't miss out on any of our new news - subscribe today and we'll keep you up to date!
Published
Tuesday, February 17, 2015
On the morning of 26th January nine members of JKS England and Wales left Birmingham International Airport destined for Japan and the opportunity to experience Kangeiko (special winter training) and share in the trip of a lifetime.

We arrived at Narita Airport at just after nine the following morning after a brief stop off at Schiphol and a few well-earned beers in advance of our 12 hour flight. The first long hall flight many of us had experienced. Those of us who were visiting Japan for the first time were struck by the level of organisation, cleanliness and consideration from the people around us.

We made our way by rail to Tokyo and our accommodation in the middle of a city which can only be described as breath taking in terms of its size and architecture. Our accommodation (http://www.kimiryokan.jp/) was located in the vibrant Ikebukuro district of the city and offered a traditional Japanese experience which quickly immersed us in the lifestyle and c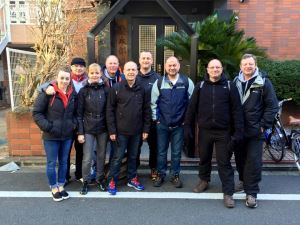 ulture.

Day one was spent wondering around the city recovering from jet lag in advance of our first experience of Kangeiko at the JKS Honbu which had us feeling a little apprehensive.
One memorable moment of the trip was watching Alan Sensei drinking beer on the first night and discussing the Samurai Sword one 'slightly inebriated' Japanese customer had drawn in the middle of the restaurant. It transpired that each of the men in their group was carrying a sword, and not one raised eyebrow was seen.

Day one of Kangeiko consisted of an early start followed by a forty minute walk and train ride to the JKS Honbu and the start of training. A brisk twenty minute run around the streets of Tokyo chanting 'Washoi' (Be Brave) was followed by our first experience of training under the watchful eye of the JKS Instructors. Yamaguchi Sensei took the first session and we quickly realised it wasn't going to be an easy week with relentless Kihon, Kumite and Kata. The second part of our daily ritual was a well-earned breakfast at Jonathans before returning to our accommodation for a day of sightseeing.

We returned to the Honbu for the evening class with Watanabe Sensei, which again consisted of a quick warm up followed by an hour of training. The pattern of training was each exercise counted ten times by the instructor followed by fifty more from the class for arms and ten plus thirty for kicks which was intense and relentless.

Day two and heavy rain prevented the run taking place so we were left in the hands of Makita Sensei, who can only be described as a machine. The session was one of the hardest many of us had ever experienced and to come through it was an achievement few of us will forget. The evening session was taught by Okamoto Sensei focusing on core training, Empi, Unsu finishing off with Ju Kumite. It was a pleasure to watch the junior students demonstrate skills that blew most of us away in terms of their speed, precision and control.

Okamoto Sensei took the Wednesday morning session, which true to form, was intense, challenging and consisted of Kihon, Sambon Kumite (including mawashigeri), Empi finishing off with resistance press-ups.
The remainder of the day was taken up with visit to Mount Takao and a tough ten mile hike to the summit and back which worked the legs just that little bit more… We experienced an 'interesting' chair lift ride on seats designed for slightly less well-proportioned backsides than ours which made the ride just a little nerve racking as we wobbled precariously up the side of the mountain. The views were breath taking and the sight of Tokyo and Mount Fuji in the distance were truly spectacular.

The Thursday morning session was taught by Inada Sensei after our run under the watchful eye of Kagawa Shihan and consisted of Kihon, partner work and Kata finished off with core training. The evening session was taught by Aramoto Sensei working on combinations followed by a technical session with Yamaguchi Sensei working on the finer points of Hangetsu.

There was no run on Friday morning due to the snow so it was straight into lots of kicking with Kagawa (junior) Sensei followed by Ipon Kumite under the watchful eye of Kagawa Shihan. It was a physically demanding morning, but hugely rewarding to be able to train under the watchful eye of the boss. The remainder of the morning and afternoon was spent at a Japanese baths at Tokyo dome. An opportunity to give our aching muscles a bit of well needed relaxation and recovery.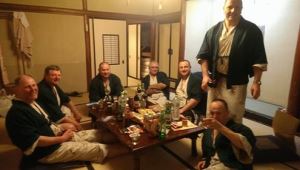 Friday night's session was taught by Makita Sensei and Kanayama Sensei who put us through our paces focusing on hip movement and Kihon. We finished off with Jion followed by some well-earned beers and an early night.

Saturday morning saw the largest number of participants with black ice adding a few interesting challenges along the route of the run. Sensei Kanayama, who can also only be described as a machine led one of the toughest sessions of the week in a packed dojo focussing on Kihon, Kata Basai Dai and Ipon Kumite. All of which were again under the watchful eye of Kagawa Shihan who by his presence alone encouraged us to push harder.

There was no training on Saturday night so a day of sightseeing around the city and an evening visit to Shibuya to see the statue of Hachi and the busiest foot crossing any of us had ever seen. As the lights change on the foot crossing a sea of people flood across in three directions and then stop almost as soon as they started.

On the last morning of Kangeiko we completed a slightly longer run to the Temple which lasted about an hour and was an opportunity for us to take our turn at chanting Washoi. This turned out to be rather amusing for the Japanese students as some of us struggled with such a simple chant. One attempt from a person who will remain nameless, was described as 'white snake', which raised significant laughter from the line. On our return to the dojo Kagawa Shihan led the session which required all of us to dig deeply into our last reserves of energy as the clock slowly slipped towards eight thirty and the end of an experience of a lifetime.

Everyone who completed Kangeiko was presented a certificate and gift from Kagawa Shihan which was a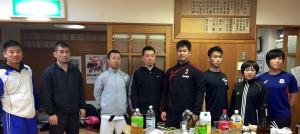 great honour as very few students completed the full week. All of the JKS England representatives completed the week and we were treated with kindness and respect by all the instructors and students, which was a humbling experience. Once the formalities were completed the post Kangeiko party commenced and we were all plied with beer and food (in that order) and were given the opportunity to present our gifts to the Instructors. After rather more than a couple of beers it was time to say goodbye to the Honbu and one of the most physically demanding and rewarding weeks of karate we had ever experienced. The opportunity to stand in the line and train side by side with some of the greatest Karateka in the World in the heart of Tokyo is an experience that will stay with us all.

Monday morning was an early start, and a three day trip to Hakone away from the hustle and bustle of Tokyo City. The scenery was spectacular and it was an chance for us for us to quietly stroll around the grounds of Odwara Castle, take in the history and visit the many museums that were in the confines of the walls. We spent three days in and around Hakone with a day at Mount Kanmurigatake with beautiful clear views of Mount Fuji which were spectacular. We had the opportunity to eat the famous black eggs which are hard boiled in the hot volcanic waters and are said to extend your life by seven years. However, this wasn't seven years per egg, much to the disappointment of certain members of the group. We made our way down the mountain by cable car and took a boat trip across Lake Ashinoko before visiting the Samurai Museum. The lake was an ideal opportunity to slip into our dogi's and take advantage of the spectacular scenery for the obligatory photo opportunity.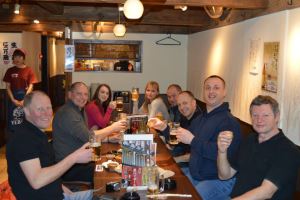 Our last night in Hanoke was spent sharing our experiences of the trip over quite a few drinks which provided an opportunity for us reflect on a journey few of us ever thought we would make. This did include a rather amusing karate challenge with a difference that had us rolling around with laughter.

We had one more night in Tokyo at our original hotel before an early start and the long haul back to the UK.

The Japan trip was an experience none of us will ever forget and our sincere and heartfelt thanks goes to Sensei Alan Campbell who organised, arranged and patiently exposed us up to Japanese culture and some of the best karate we could possibly have hoped to experience. Oss.

Here are the nine members who made the trip:
Alan Campbell (Seibukan Karate Club)
Wendy Preston (Seibukan Karate Club)
Derek Stockham (JKS Brecon Senshi)
Nikki Stockham (JKS Brecon Senshi)
Geoff Dixon (Grantham Shotokan Karate Club)
Rob Edwards (Grantham Shotokan Karate Club)
Mark Turner (Walsall Karate Dojo)
Ron Ashby (Walsall Karate Dojo)
Neil Stringer (Chorley Sakura JKS)