Sold-Out Black & Brown Belt Course on Remembrance Sunday
Subscribe
Don't miss out on any of our new news - subscribe today and we'll keep you up to date!
Published
Monday, November 11, 2013
The Black & Brown Belt Course held in Nottingham on Remembrance Sunday was a huge success.


The venue was packed with Black & Brown Belt attendees who enjoyed two hours tuition from Alan Campbell Sensei, Chief Instructor of JKS England.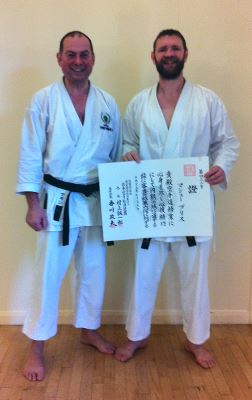 Two minutes silence was impeccably observed at 11am.
As well as the course, Alan Sensei had the pleasure of presenting grading certificates from Japan to members of the Leeds Karate Academy who recently graded at the Hombu Dojo in Tokyo.

They were:

Juliet Finlay (4th Dan JKS)
Melissa Finlay (3rd Dan JKS)
Matt Price (6th Dan JKS); and

Ashley Scott (4th Dan JKS).
Congratulations to them, and thank you to all who attended the course.
Osu.