JKS England squad record best results to date at the EKF Nationals
Subscribe
Don't miss out on any of our new news - subscribe today and we'll keep you up to date!
Published
Wednesday, April 2, 2014
Following their success in Malmo, the JKS England Squad made their way to Sheffield over the weekend of 29th & 30th March for the biggest domestic event of the year, the EKF National Championships,.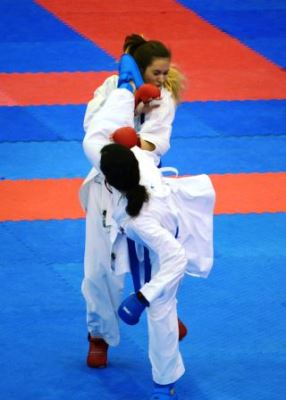 The first days action saw the childrens events plus all Kata events taking place. There were no medals won but Ross Temple came close in the Senior Male Kata event, losing in the repercharge final and just missing out on a Bronze medal as a result.

The Sunday saw all the Kumite events for Cadets (14 & 15 Yrs old), Juniors (16 & 17 yrs old) and Seniors (18 Yrs+).

The Team Kumite events were first up and brought great success. The Cadet Girls (Emelye O'Brien, Amber Bannister & Eleanor Dook) did very well, before losing in the final and securing themselves a Silver medal.

The Womens Team (Ashley Scott, Melissa Finlay, Rachel Harrison & Tanya Handley) beat the Sports Karate Association, lost to eventual winners Western Karate Union before beating BIKO in the repercharge final to secure Bronze.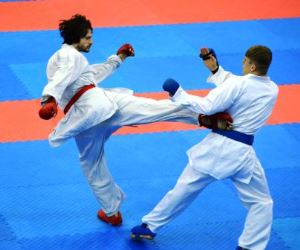 The Mens Team (Joe Hart, Craig Williams, Tom Little, Joe Bulmer & James Brown) lost to Shindo Kai before going on to secure Bronze medal themselves.

Hayden Steele performed very well to secure Bronze in the Senior Male Kumite -60Kg event having lost to the eventual winner.

Lewis Bradbury fought very well, building on recent successes, to make the final of Cadet Kumite -63Kg. Although he lost the final, Lewis showed great promise, which we hope will develop even more in time.
Star of the day though was Emelye O'Brien. She took Bronze in Cadet Female Kumite +54Kg event. She then went on to the Final of the Open weight. This proved to be an incredibly dramatic ending. Losing 4-3 in the dying moments of the fight, Emelye hit her opponent with an Ushiro Geri which sent her flying out of the area. After the judges made their decision Emelye was awarded Wazari (2 points) which took the score to 5-4 with only one second left on the clock and giving her JKS Englands first ever Gold at the EKF Nationals.

We finished the day with one Gold, two Silver and four Bronze medals, our best result in the three years we have been attending this event. Well done to everyone, the results are a testament to your hard work and efforts.