Kagawa Sensei takes memorable course in Walsall
Subscribe
Don't miss out on any of our new news - subscribe today and we'll keep you up to date!
Published
Thursday, March 13, 2014

On Wednesday 12th March Walsall Karate Dojo was the venue for a special one day JKS England course and Dan grading. The event was very special as it marked the annual visit of JKS World Chief Instructor Masao Kagawa 8th Dan to Great Britain.
The event followed a successful one held the previous day in London also with Kagawa Sensei instructing. The course sold out weeks before with only 120 places available over three sessions during the day at 3pm, 6pm and 7:30pm.
During the first session Kagawa Sensei taught some fantastic kihon drills aimed at improving hip movement which were then transferred to kihon Ippon kumite. The session then moved onto Kagawa Sensei's signature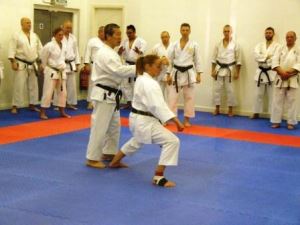 kata Sochin which was diagnosed in detail with demonstrations made of key points by Kagawa Sensei himself. Finally three dan grading candidates were asked to perform the kata under the watchful eye of Kagawa Sensei. Key points for improvement were highlighted which helped the candidates tremendously and aided other course participants in their understanding of the kata.

A dan grading for Sandan to Godan followed the first session at 4:30pm. Congratulations to the six JKS England members who were successful:

Simon Flint (JKS York)

Richard Payne (Leeds Karate Academy)


Jackie Jones (Kaizen No-Michi)

Ian Shaw (Haxby Shotokan Karate Club)

Godan
Paul Allison (Shidokan Shotokan Karate Club)

David Wilson (Grantham Shotokan Karate Club)

After a short break the second session of the day begun at 6pm. The session began with a warm followed by Kagawa Sensei treating everyone to some special leg strengthening and balance exercises which left everyone in awe of his ability. Following this the second session of the day saw participants were treated to a master class in Junro Shodan and Junro Nidan. Both kata were broken down into small parts. Emphasis was placed on correct form but performed with the correct fluidity in movement with Kagawa Sensei introducing various training exercises throughout the kata to aid development with this. Finally bunkai was demonstrated and then practised with
partners. This helped everyone to gain a better understanding of both kata.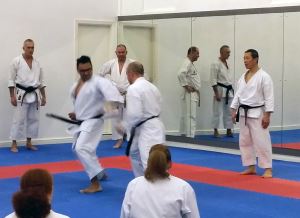 The final session of the day started immediately after at the conclusion of the first class. This session was reserved for Dan grades only. The focus of the class was the Asai Ryu kata Kakuyoku shodan. Kagawa Sensei had previously taught this in England in 2009 so it was great to revisit it. Also for many of the participants in this room this kata was a new experience and for some the first experience of any
Asai Ryu kata

. The format of the teaching was very similar to the second session and it did give the opportunity to practise bunkai with a partner.

The long but exhilarating day finished at 9pm with all participants commenting on what a succesful and memorable event it had been. We would like to thank Masao Kagawa Sensei for visiting England again and look forward to his next visit.
For further information on upcoming JKS England events
click here.