Spectacular Spring Seminar with Kagawa Shihan
Subscribe
Don't miss out on any of our new news - subscribe today and we'll keep you up to date!
Published
Monday, March 20, 2017
On Friday 10th and Saturday 11th March, JKS England welcomed Masao Kagawa Shihan 8th Dan for his annual Spring seminar in Nottingham. It was held at the Djanogly City Academy and turned out to be a spectacular event. A sold out Saturday and very busy Friday night covered all manner of karate practice; kihon drills, kumite exercises, kata, applied karate and strength and conditioning.
Kagawa Shihan needs no introduction and continues to spearhead the modernisation of Shotokan karate through his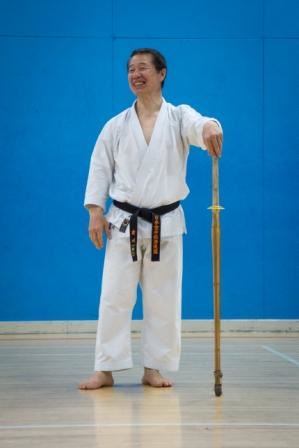 positions with the JKS and WKF. Over the weekend, Kagawa Shihan touched on a number of his feelings with how karate has developed and how it must continue to do so with its approaching inclusion at the Tokyo 2020 Olympics, some intriguing insights for all in attendance.
Throughout the course Kagawa Shihan delivered vital detail, training exercises and humour which made for an inspirational seminar. Always well received, Kagawa Shihan gives all aspects of teaching his full attention with an infectious enthusiasm that gets the best out of all levels of karateka.
Starting on Friday evening at 6:30pm, Kagawa Shihan took students through a master class in stance and transitions. Reminding all of the need for solid fundamentals, this moved on to kihon drills which covered basic kicking and punching combinations. Kagawa Shihan always kept his concentration on the development of the training sequences and cleverly consolidated the teaching points as the lesson progressed. Working hip action with full body movements Kagawa Shihan spent a good amount of time on the significance of controlling weight distribution for effective and powerful attacks. Constantly micro-managing stance become a key feature of the evening's training with Kagawa Shihan always more insistent on increasing pressure through the front leg and driving the hips into the technique. This theme advanced into sliding attacks with the students working hard to co-ordinate their timing and weight distribution whilst increasing speed and relaxation (to avoid inhibiting tension).
The latter part of the session worked on tai-sabaki and ashi-sabaki. With Kagawa Shihan demonstrating and explaining the options for technique avoidance, this built on the control of stance and core earlier, expanding then into partner work exercises. When introducing counters as well Kagawa Shihan commented on the importance of timing so no unnecessary delay could be taken advantage of. After a brilliant 2 hour session it was back for some well needed rest ahead of the second day.
The Saturday session began with some dan grade diploma presentations following gradings at the international seminar in Japan and before this, the JKS World Championships in Glasgow. Alan Campbell Sensei then took to the front of the dojo to lead a very warm tribute to Paul Massheder, Chief Instructor of JKS Bradford who sadly passed recently. Paul Sensei was a very long standing member of JKS England, being very well-respected and supportive member over the years and a true student of karate. Also an admirer of Kagawa Shihan, the course attendees remembered him in the best way possible, with four hours of enjoyable and challenging training.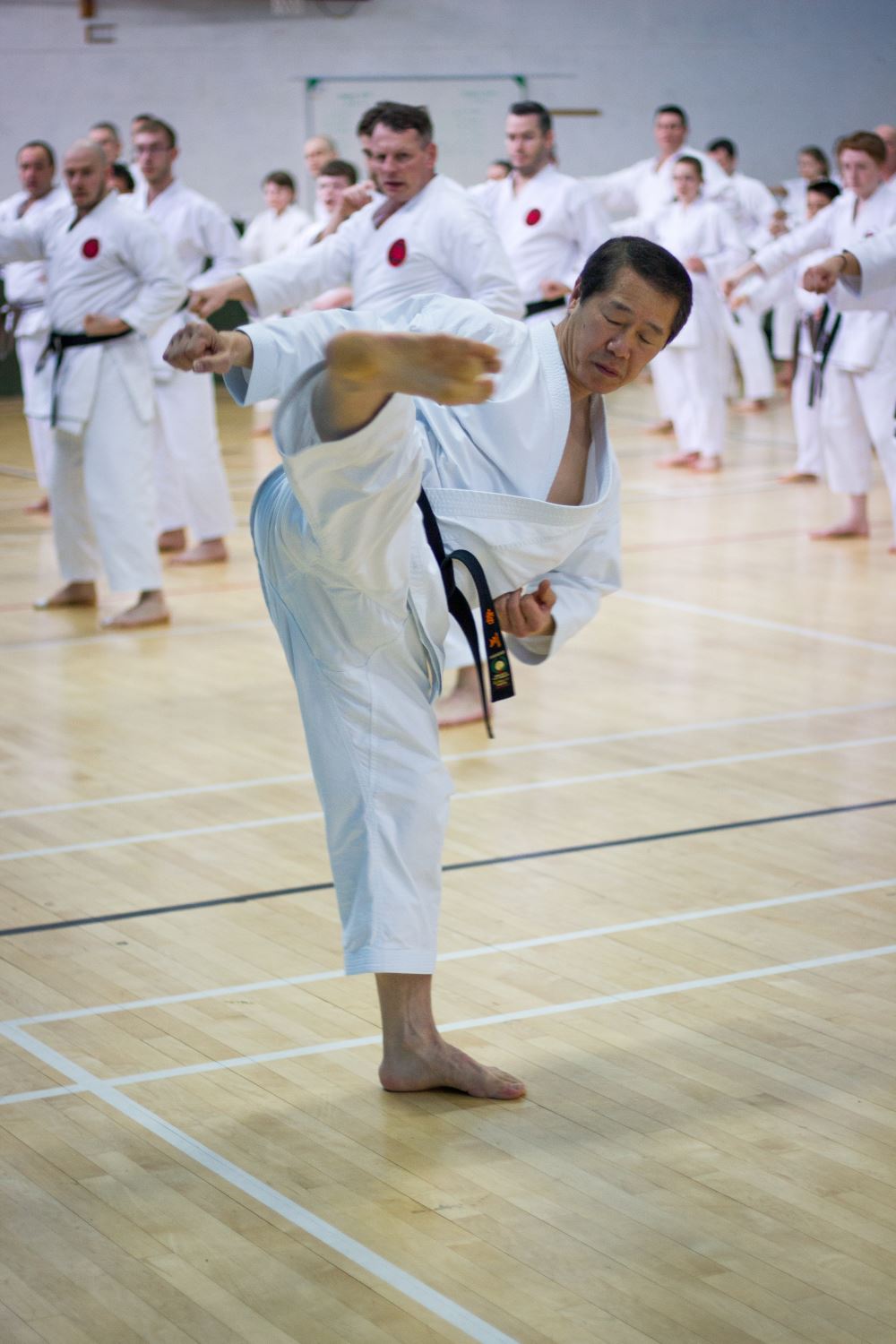 Kagawa Shihan concentrated on gyaku-tsuki (reverse punch) to begin with. A common technique forever benefitting from refinement, students certainly had the best to learn from! Working correct hip action and always striving for that little extra, students were tested to work at all angles and speeds. Over the weekend Kagawa Shihan also worked kicks like yoko-geri (side kick), and stances such as neko-ashi dachi (cat stance) which he said are often less practiced but as Shotokan exponents should not be forgotten as they are not found in other styles or in the same way. Some shiko-dachi slides then fatigued the legs before the break, ironically a stance recommended for training but not part of the Shotokan syllabus. Another feature of the weekend, Kagawa Shihan never let anyone doubt the need for good strength and flexibility to improve all aspects of karate. A perfect example that age is no barrier for development, his modern twist on traditional training caters for all grades provided students appreciate their limitations, although Kagawa Shihan seems to still be searching for his! With flexibility needing to be maintained and strength which means Kagawa Shihan practices continuously, he is a joy to watch. The JKS England website has a number of video clips from the seminar which convey his attention to detail, sense of humour and take your breath away ability which show just a small amount of the awe experienced by all who book early enough to train with him. A danger whether he is stood shoulder to should with your or ten feet away, Kagawa Shihan is a complete karateka and leaves no secrets untold, a very open and honest individual, one cannot help but smile throughout his teaching.
The only kata covered by Kagawa Shihan in full was Enpi, although over the weekend many mentions and sequences were
excised and dissected from others. The detail covered however was second to none and aided by a number of JKS England Kata Squad members, students saw the difference which little variations can have in performance, that, and the help of a shinai! A must see video shows the need for constant awareness of one's own technique and how a little bit of danger can be a good thing for development. Enpi applications were then demonstrated with students paired up to practice.
Moving on to cover sanchin-dachi and mawashi uke with partners, students enjoyed following Kagawa Shihan's train of thought. This portion also ended with takedowns to the floor, which always finished with a punch to the stomach or kick to the head! Working through some competition details, this light hearted exercise had an important undertone for many; to recognise the difference in technique required to be awarded the point.
To complete the course a two hour full body workout saw students use their own and their partner's bodyweight to work on arm/leg strength, stances and then to channel their inner "baby". You would think that working back to the first few months of life should be straightforward but Kagawa Shihan proved that everything is not always as it seems, working the core to finish left the mood and atmosphere as it had started and stayed, electric and entertaining. A high intensity end to a fantastic course, much of the thanks must go to those in attendance for their efforts and great attitude. Ten punches at the end also provided a fitting karate salute to Paul Massheder Sensei.
As ever, the quality of instruction surpasses all that you could ever hope for so please book early and take a look at the JKS England Facebook page for some snippets on what was missed over the weekend or for the chance to enjoy again.

Following the course, a grading then took place for those taking Sandan grades and above. Massive congratulations to those that passed, especially Alan Campbell Sensei-Head of JKS England on achieving his 7th Dan. Here is the full list of those who were successful:


Sandan
Hannah Johnston - Kensho Karate Club
Thomas Little- Leeds Karate Academy
Nikki Jayne Stockham - JKS Brecon Senshi

Yondan
Jayne Brown - Leeds Karate Academy
Steve Dargan – Red Tiger Karate Club
Joseph Finlay - Leeds Karate Academy
Nicholas Midgley - Leeds Karate Academy

Godan
Andrew Jones – Kaizen No-Michi

Nanadan
Alan Campbell – Seibukan