The 2016 Summmer Course is the largest ever yet again
Subscribe
Don't miss out on any of our new news - subscribe today and we'll keep you up to date!
Published
Tuesday, July 26, 2016
On the weekend of the 23rd and 24th of July, JKS England proudly hosted the all grades annual summer course in Nottingham. An ever increasing attendance meant a record number of students enjoyed two hot days of physically testing and thoughtful instruction. Alan Campbell-Head of JKS England introduced the instructors for the weekend as Matt Price and Steve Carless Sensei, who were to be joined by a very special karate-ka from the JKS Hombu Dojo (headquarters) in Tokyo, Saori Okamoto Sensei.
Recently victorious in kata at the 2016 JKS All-Japan Karate Championships, Okamoto Sensei was a very welcome addition to the instruction team. Having had both huge success in her competitive career, as well as gaining the undoubted appreciation of all lucky enough to train with her, Okamoto Sensei was a huge hit with everyone involved right from the start.

The course began with a presentation to JKS England following a hugely successful fundraising effort by members of Grantham Shotokan Karate Club. Led by Geoff Dixon Sensei, a 24 hour karate-thon meant constant training throughout day and night, encompassing a range of training methods and ideas. This resulted from the unfortunate first-hand experience of cancer by a valued member earlier in 2016. Dividing the funds between Breast Cancer Research, the students' choice of Help for Heroes and JKS England, the club raised an amazing £1,050 for each of the causes.

Saturday Sessions:

The course began with all students training together under Okamoto Sensei, whose constant encouragement and motivation was maybe only surpassed by her endearing sense of humour. Okamoto Sensei covered basics, picking up on points of improvement in terms of relaxation, snap, driving into stance and kime. Students worked hard in the hot conditions to deliver efficient straight punches and kicks without any wasted time or movement. Okamoto Sensei also covered slow, deliberate stance-work and the importance of control through every aspect of the movement. Press-ups on the front two knuckles (seiken) was then a first for some with all students doing their best to help cement teaching points such as this through both sweat and concentration. Delivering fantastic speed and power Okamoto Sensei's stature in no way inhibits her from anything but textbook performance.

The class was then split into kyu grades and dan grades (coloured belts and black belts respectively). Steve Carless Sensei taught a high intensity session to the dan grades, bridging the gap between basic technique and kumite. Steve Sensei stressed the importance of correct weight distribution not only for defending but also when attacking, ensuring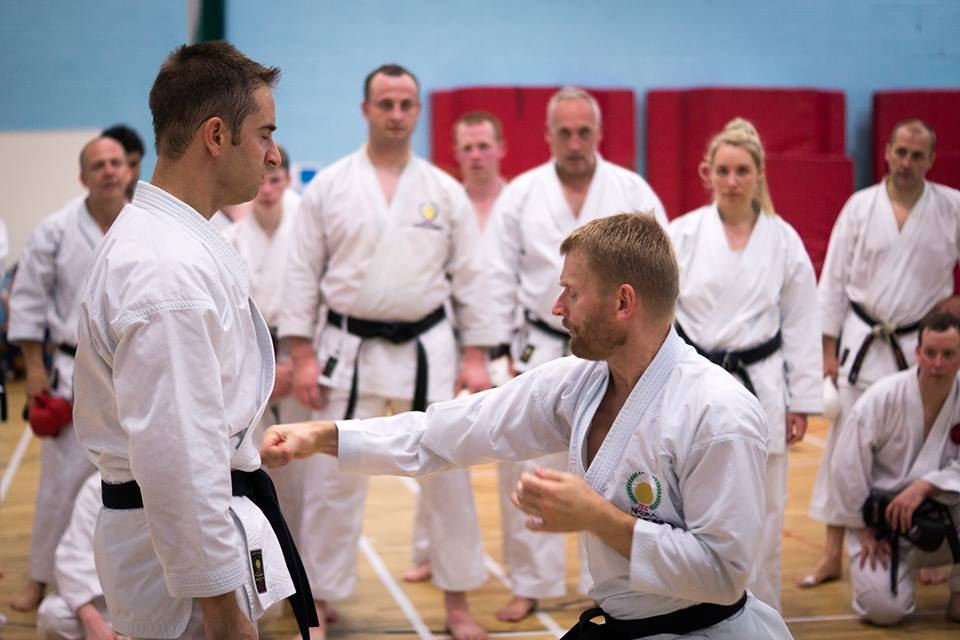 that maximum impact is delivered by hitting with the whole body. These principles were practiced in turn with partners, who endeavoured to maintain their centre and load the back leg ready for action. Steve Sensei then engineered some very interesting ways in which to practice these principles "under pressure". Students used mitts to try to strike their opponent upon feeling the punch hit their stomach. This pressure helped the students to drive quickly in but also work their co-ordination to move quickly back to safety. The JKS England Facebook page has some excellent footage of the JKS summer course and of Steve Sensei in action demonstrating this. The pressure was then increased utilising a jodan mawashi-geri (roundhouse kick to the head) to apply further pressure. The partners worked as a team to take each other out of their comfort zone and do their best to maintain the focus and footwork needed to execute the drill effectively.

Matt Price Sensei took the kyu grades and covered a number of aspects of kicking in a challenging lesson. Understanding kicking height, delivery and withdrawal was key to allow the students an appreciation of what's required to use kicking techniques in a number of situations. Students were tasked to kick slowly to different heights whilst maintaining correct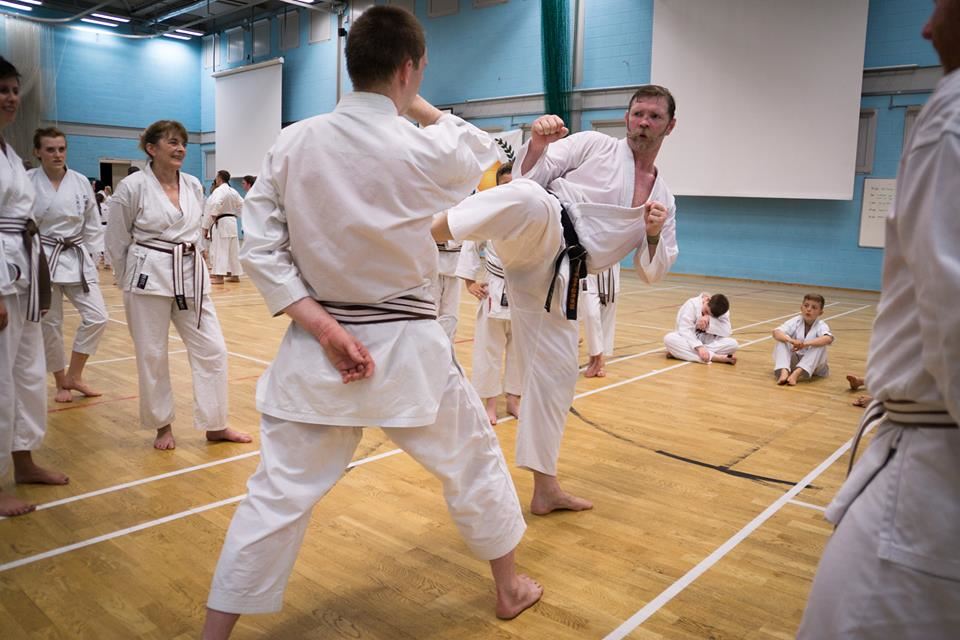 body posture, knee position and hip action. Matt Sensei showed the technique needed to kick powerfully but also the ability to concentrate in order to hit the desired target. Students tried hard to keep their consistency and were left with some excellent exercises to take to their dojos back home.

Steve Sensei then taught the kata Enpi to the kyu grade group. Even the newest students picked this up quickly, allowing Steve Sensei an opportunity to demonstrate a number of applications as well as the technical detail expected within the kata. Engaging all students, regardless of prior knowledge, Steve Sensei kept the students focussed to allow everyone to gain a great deal from the session. With superb technical demonstration to follow, the students were able to see the nuances needed to capture the essence of the kata, which means flying swallow.

Okamoto Sensei then covered the kata Jion with the black belts. Repeated moves and crucial transitions were practiced in isolation, with technical points covered and questions welcomed. Okamoto Sensei, all the while smiling and laughing infectiously, emphasised the significance of correct preparation which needs to be coupled with correct hip motion and stance to deliver breath-taking kata. Operating at complete contrasts in speed, Okamoto Sensei displayed faultlessness rhythm to showcase how kata should truly be performed.

Sunday Sessions:

On Sunday, even more students were captivated by the highest calibre of karate instruction. Matt Price Sensei worked the dan grades through some kumite principles which first involved a punching and kicking combination. Students were reminded to position their defensive guard appropriately and after working on both mawashi and ura-mawashi geri, Matt Sensei then tested the students to deliver either of the attacking strategies. The importance of the knee position and direct line of attack left little time for the defender to respond comfortably. However, even with a fast attacking sequence Matt Sensei had revealed how a good guard can help not only prevent the defender getting hit but also leave them in a position to counter immediately and effortlessly. Matt Sensei then took the class through some more advanced defensive strategies, relying on identifying the technique as early as possible and then working to unbalance the opponent, place them in a position to be thrown or apply a lock/hold.

The kyu grades were taken by Okamoto Sensei who covered mae-geri and yoko-geri. Knee position was stressed with the hip and foot positions also key upon impact to deliver an effective kick. Okamoto Sensei then looked at Heian Nidan and Heian Yondan, concentrating on certain elements of the kata to progress ideas which the students had already been exposed to.

Steve Sensei then worked on the differing attitudes to movement and the importance of not confusing or combining more linear movement with whipping, rotational techniques. Defensive combinations were then worked on with a partner where students were pushed to connect good basics and stance transitions with control of their opponent to produce effective takedowns or sweeps. Intricate movements were clearly shown and students were able to vary the defensive approaches to discover what would work for them and the limitations of some techniques on an opponent of a different size. Utilising applications as the basis for explanation Steve Sensei then taught the kata Chinte to finish

Matt Sensei worked on movement with the kyu grades, adding gyaku-tsuki when working with a partner to illustrate the importance of positioning when attacking. Matt Sensei then proceeded to demonstrate a number or lesser known locks and counters to complete a very varied lesson which maintained the same delivery of principles throughout. Encouraging this consistency, students were able to gain more confidence in kumite as they realised the value of staying calm and collected under pressure.

All of the grades were then combined to finish the summer course. Okamoto Sensei was on brilliant form and selected the kata Kanku-Dai to end a brilliant weekend. Students battled tiredness to try to emulate Okamoto Sensei's movement. Be it smooth and controlled or fast yet still precise, Okamoto delivered unwavering quality until the end. Always encouraging students for improvement and understanding, Okamoto Sensei along with the effort of all the students produced an inspiring atmosphere in which to draw the weekend of training to a close. This finished with an outstanding demonstration of Kanku-Dai by Okamoto Sensei, receiving the round of applause it most certainly deserved.
Alan Sensei then thanked the instructors for the weekend, the students for their vital input and crucially Wendy Preston Sensei for her tireless efforts to make such successful courses as this possible. A dan grading for a lucky few then followed the exhausting course, congratulations to those who passed this time.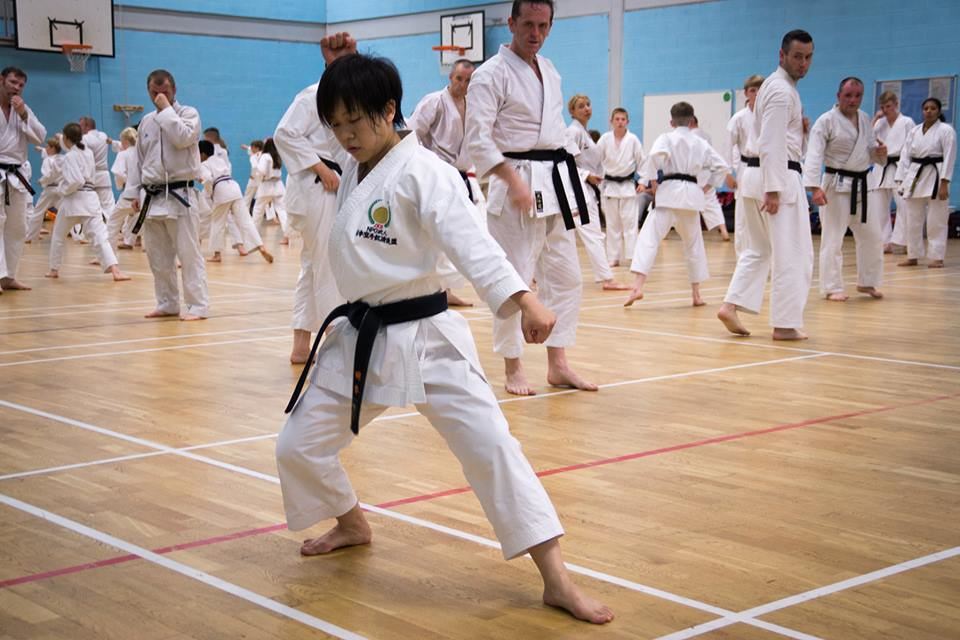 Please remember to take a look at the JKS England Facebook Page for some short video sequences of the weekend and remember to book your place soon as courses will continue to fill quickly with the highest quality of instruction always on offer.