Record turnout for the latest Black and Brown belt training
Subscribe
Don't miss out on any of our new news - subscribe today and we'll keep you up to date!
Published
Monday, April 4, 2016
Sunday 3rd April saw a record turnout for the latest black and brown belt session, hosted at the Djanogly City Academy in Nottingham. One hundred and twenty five karate students from across England gathered for what was to be a very engaging two hour session. A big thank you to all those in attendance and to all dojos that were represented.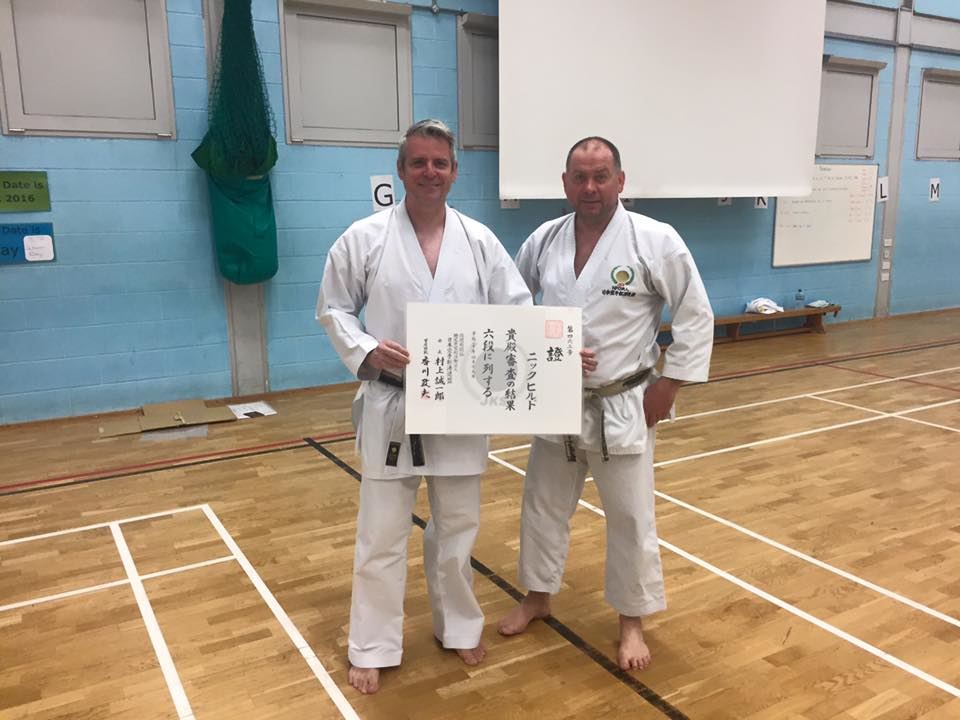 The session started with the presentation of dan grade diplomas by the Head of JKS England Alan Campbell Sensei 6th Dan JKS. A special mention must go to Nick Heald Sensei, 6th Dan JKS of Leeds Karate Academy for receiving his handwritten diploma from the JKS Headquarters in Tokyo. This is something only reserved for Rokudan (6th Dan) and above. The award followed a testing crossover grading on a recent trip, which saw only a select few be successful, taking place at Teikyo University under the watchful eyes of the Kagawa Shihan and plus othe notable members of the JKS Shihankai .

Matt Price Sensei and Nick Heald Sensei continue to expand and improve the JKS England Squad and it was mentioned that an elite team will be competing in Dubai Open and the upcoming Karate 1 Premier League event next weekend. Lee Lamb, 4th Dan JKS who will be competing in Dubai took the warm-up for the session. Best wishes go to the squad from all of JKS England.

Alan Sensei then started the session with a focussed look at the co-ordination and timing within basic technique. Students practiced this with simple punching techniques on the spot (choku-tsuki) before being ushered to consider the technique more closely. They were then encouraged to concentrate the punch as if striking a target, making sure that the whole body was involved, not just using arm power. Thrusting the hips and snapping the hands was the next step in helping the students to highlight elements of their own technique and through feedback with a partner, improve their kihon (basics).The principles which Alan Sensei covered were well received by all of the students and the audience a key part in evaluating the performance of both themselves and others.

Speed then became the most important aspect of delivery, with everyone urged to move out of their comfort zone. Synchronizing the hand and foot for oi-tsuki (stepping punch) forced students to drive their legs as fast as possible with the aim also being to recover control at the very end of the punch to protect their partners! Students then grouped into threes and when propelled by a partner it became apparent how vital the beginning of the technique was. By starting swiftly, students were able to surprise their opponent, covering a much greater distance in a very short period of time. Alan Sensei was keen for all in this grade group to understand that for maximum benefit students need to stay outside their comfort zone and push themselves and others…!

Alan Sensei then introduced an attacking sequence which utilised stance changes and kicking to work on sustaining momentum. Students needed to concentrate on maintaining command of their centre line. This allowed the techniques to be delivered in quick succession with no time or energy wasted. Alan Sensei commented on the importance of efficiency here to ensure that the techniques would work against an opponent if supported by correct posture and stance transitions.

The kata Kanku-dai was then covered in detail to end the session. Alan Sensei reinforced the points made earlier, with students trying to make big but relaxed and natural techniques. A moment was also given to kokutsu-dachi (back stance) and the need for proper weight distribution, statically and dynamically within the movements of the kata.

Alan Sensei then paid homage to the talent from the JKS headquarters which is to be showcased on the upcoming JKS England courses with Okamoto guest instructor on the JKS England Summmer course and Arimoto Sensei as guest instructor on the Autumn course.Very exciting events for later in the year.

A dan grading followed the course and congratulations to those who were successful:


Shodan
Jasper Duffield-Hedges - Can Do Martial Arts
Gina Elliott - Kensho Karate Club
Martin Fairburn - JKS York
Joseph Garfield - Walsall Karate Dojo
Henry Gleave - Can Do Martial Arts
Sindy Gonzalez Rodulfo - Can Do Martial Arts
Jacob Green - TKF
Caitlin Hopkins - Walsall Karate Dojo
Cara Hopkins - Walsall Karate Dojo
Jonathan Mangion - Can Do Martial Arts
Chloe Miller - TKF
Ashleigh St Clair - JKS Sheffield
Amanda Stewart - Can Do Martial Arts
Isabella Wilkes - Walsall Karate Dojo
Riley Woodhouse - TKF

Nidan
Laurence Archer - Leeds Karate Academy
John Santos - Walsall Karate Dojo

Yondan
Rachael Wolstencroft - Red Tiger