The first Free JKS England Referee, Judge and Table Recorder Course is a great success
Subscribe
Don't miss out on any of our new news - subscribe today and we'll keep you up to date!
Published
Wednesday, February 5, 2014
JKS England held its first Referee, Judge and Table Recorder Course on Saturday 1st February 2014. The course which was free to all participants, forms part of the ongoing Referee Development Programme was attended by almost thirty people. Geoff Dixon Sensei delivered the course and it took place at the Walsall Karate Dojo at the invitation of Steve Carless Sensei.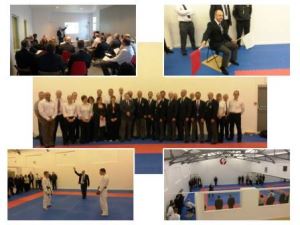 The Walsall Karate Dojo is a suberb facility and proved to be ideal for this kind of event, with two training areas (one with a full size matted competition area) plus a meeting room where participants were able to benefit from an audio visual presentation and discuss any issues relating to rules and procedures.

The course itself combined the theoretical aspects of competition rules, Referee & Judges signals and Table Documentation with practical exercises that examined different situations and scenarios. Volunteer fighters provided a spirited and a highly energetic series of kumite bouts to enable authentic application of the rules in a more 'life-like' situation, and brought the day to a successful close.

The overall aim of the programme is to enable people who want to get more involved at competitions to do so by attaining recognised qualifications within both JKS England and ultimately, The English Karate Federation (EKF) and to develop a reputation for refereeing excellence within the JKS.

The feedback has been superb and we would like to make a special thank you to Geoff Dixon for a thoroughly enjoyable yet educational course. The next event is scheduled to take place in April 2014 and is open to all JKS members who meet the eligibility criteria. Details will be published on the website in due course.