An unforgettable weekend with Koji Arimoto
Subscribe
Don't miss out on any of our new news - subscribe today and we'll keep you up to date!
Published
Monday, October 31, 2016
The JKS England autumn seminar was once again held at the Djanogly City Academy in Nottingham, with students treated to Arimoto Sensei's first visit to the country and for all involved an unforgettable weekend.
Arimoto Sensei is a former WKF Team Kata World Champion from 2012 and the reigning JKS World and All-Japan Kata Champion, accolades which still cannot do justice to the technical ability showcased over the weekend of the 29th and 30th October. Arimoto Sensei is currently on the JKS Instructor's Course but maintains a busy schedule with teaching and competition high on the agenda.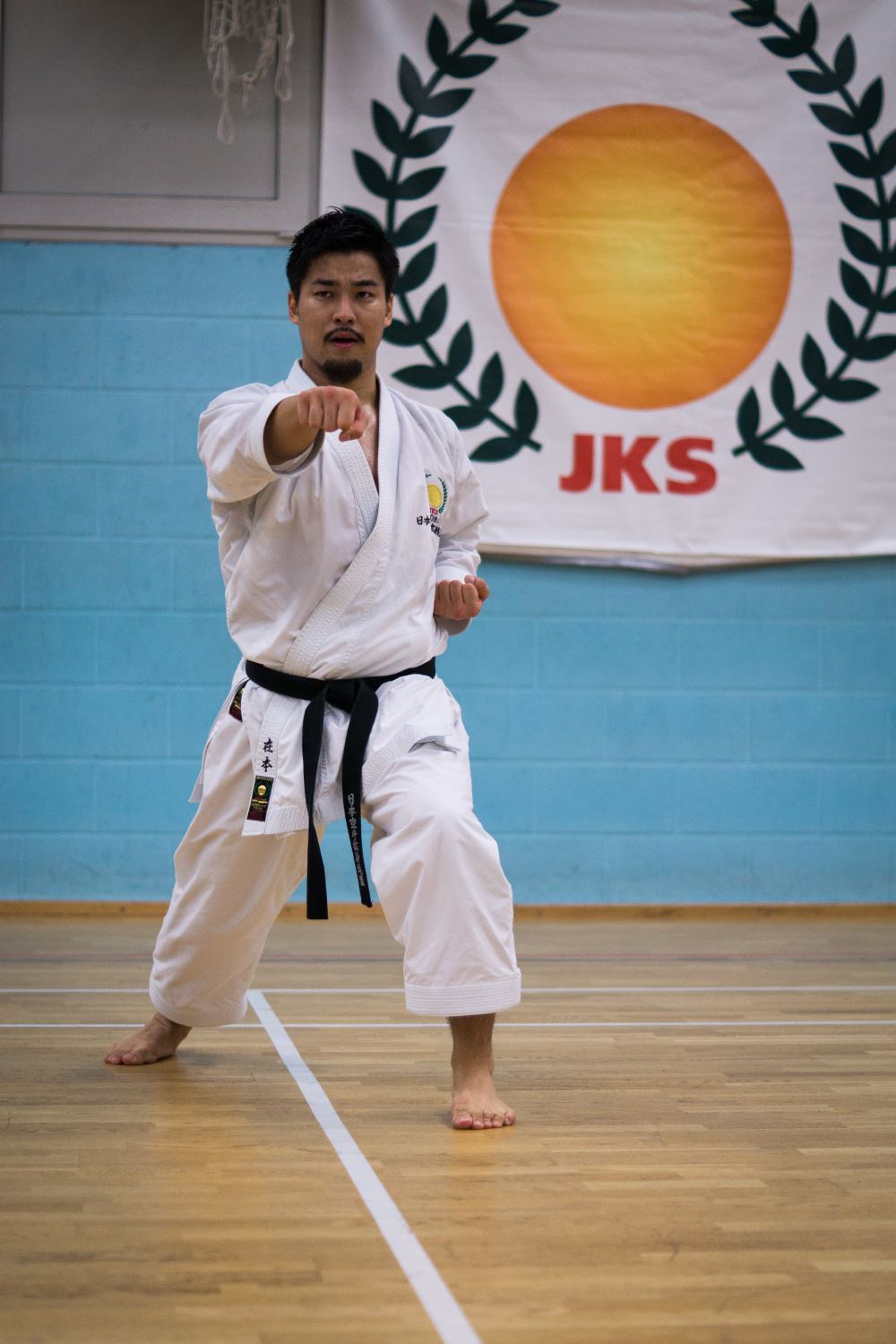 The Saturday session began with simple basics (kihon) and after warming up, students soon began to realise the value of the faultless demonstration of technique on offer and the depth of understanding which there is seldom time to cover. Encouraging students to complete their stance and utilise the correct hip action was to be a feature which filtered through the weekend and was always relevant to the training. Arimoto Sensei was able to select finer points where improvement could be made and utilised a varied but relevant approach to the practice drills.

Working on every aspect of the technique, Arimoto Sensei advanced the kihon and with great explanation, showed the big difference that small adjustments can have. With an immediate impact, students were in awe of the skill and capabilities shown in Arimoto Sensei's karate but who were also lucky enough to receive a more complete explanation of all the elements being addressed.

Increasing the combination work, students found themselves working hard but with the modest approach of Arimoto Sensei, motivation never subsided. The session then continued after a short and well earned break with two kata being covered to complete the Saturday's training.

Bassai Sho was covered first. A kata which is often less commonly practiced was a welcome introduction for many. Students first performed the kata slowly and then Arimoto Sensei had the opportunity to present a truly inspirational performance. Moving with grace but always combined with speed and power, Arimoto Sensei's katas are something to behold. Both entertaining and educational it was the students who appeared more out of breath then Arimoto Sensei, a breathtaking moment and fortunately just one of many! Arimoto Sensei then covered the technical elements of the kata in detail, raising specific teaching points which received the attention they deserve. These points almost always related to the kihon at the start of the course and the completion of stance and hip motion which helped give the kata its lifeblood.
Moving on to Gojushiho Sho, Arimoto Sensei continued to talk a lot throughout the session about the importance of relaxation immediately before, largely during and quickly after technique. Showing the effect this can have meant that power was not limited by tension as much greater speed can be achieved. A strong karate-ka, Arimoto Sensei also discussed the need to time technique to soft, natural breathing. This meant that students were exposed to the Shotokan style of breathing and how it is incorporated. Influencing kata and controlling breath again allowed Arimoto Sensei the platform to show the results which can be attained if correct breathing is executed. Arimoto Sensei was open to questions for both katas and also noted the differences in past and present teachings although eager to ensure that all aspects of the JKS standard were always explained.

The session ended with a detailed look at stance, weight distribution and posture. Jumping up before landing in various stances highlighted the importance of strong legs as well as the knee and hip position for stability. A challenging end to what was a fantastic first day. The brilliant session meant all students, regardless of grade, left inspired with a beaming smile on their face.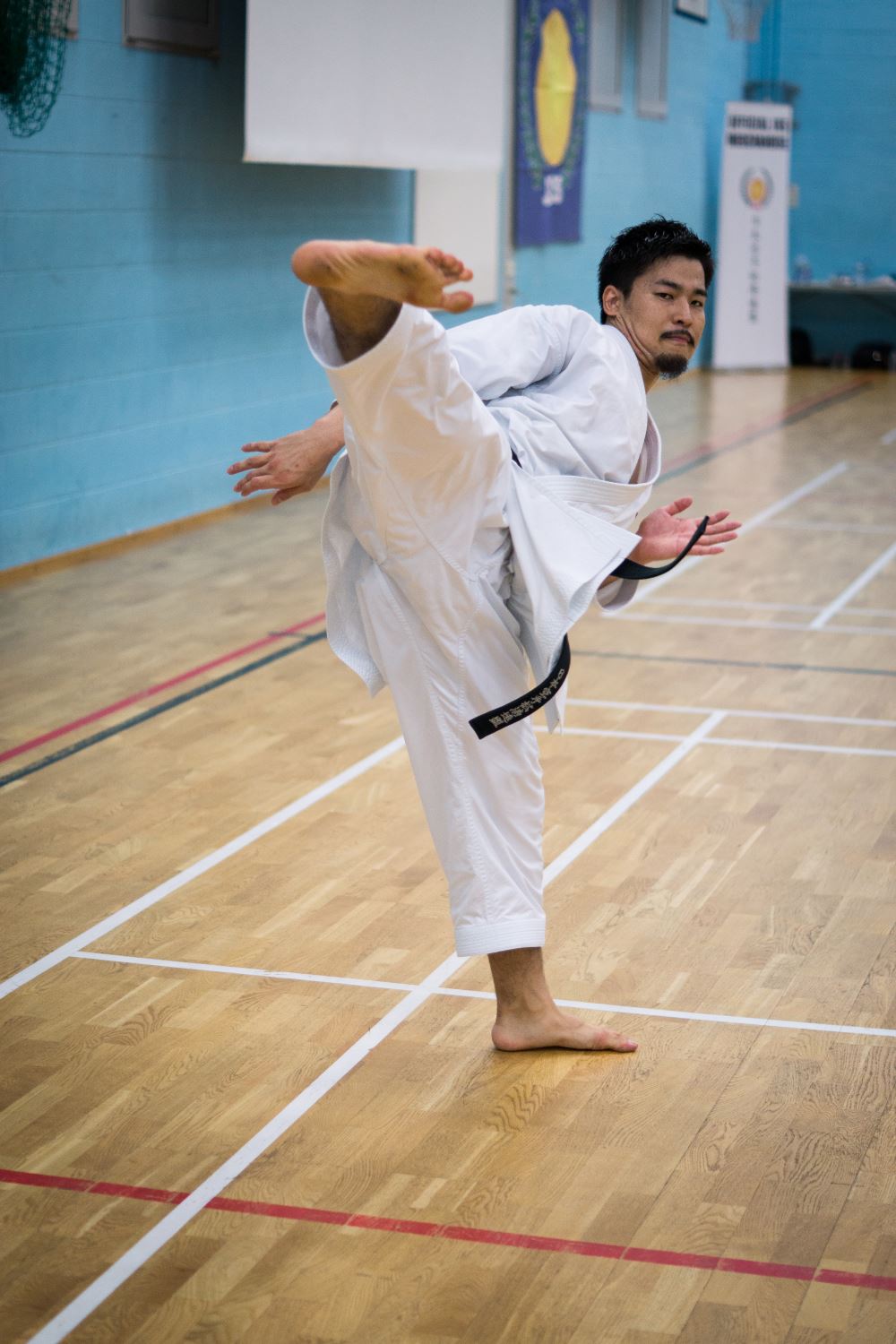 Day two began with a similar strategy to cover the value of basic technique within all karate fundamentals. Arimoto Sensei started with punching drills and provided a ladder of difficulty for some training sequences which are likely to be repeated in dojos around the country over the next few weeks. Stressing the need to release all tension again, Arimoto Sensei built up the sequences in difficulty to look at hip use, weight transfer and then balance through maintaining the body's centre line.

Arimoto Sensei continued to stimulate the on looking students as even the most subtle and simple movements looked flawlessly refined. Arimoto Sensei also continued to illustrate the worth of relaxation and breathing, and the consequences of not doing this. Emphasis on the need to remove all tension especially when tired, meant Arimoto Sensei demonstrated all of the sequences with absolutely no hint of slowing down or losing power. Always complete and always correct, Arimoto Sensei certainly proved that good basic technique permeates all karate practice. His knowledge and level of understanding of techniques and body dynamics is so advanced that trying to recall all of the information is a challenge in itself.

To complete the seminar, Arimoto Sensei proceeded to display the kata Gankaku. A particularly difficult kata, requiring the micro-management of stance, balance, hip action and timing was cause for all students to dig deep into what little reserves were left, attempting to apply all the points covered by Arimoto Sensei. A fabulous demonstration provided another focal point of the weekend for all at hand. Please take a look at the kata and other videos (available on the JKS England Facebook Page) which were streamed live for those unable to attend the busy course.

After such an impressive display of technical precision, Arimoto Sensei received a huge round of applause, a fitting end to a course which could not have failed to inspire. Alan Campbell Sensei, Head of JKS England declared that he was blown away by the weekend's offering and wished Arimoto Sensei the best for completion of his Instructor's Course. Alan Sensei also thanked everyone for supporting the course from within the JKS, from other organisations and those friends who had travelled from abroad. A massive hit with all involved, Arimoto Sensei's performances and depth of knowledge will continue to have an impact for a long time to come. A humble instructor with a work ethic and skill set that will only get better; Arimoto Sensei is definitely an instructor not to miss training with!

A dan grading followed the course and congratulations to those who were successful:

Shodan
Deborah Bedford - JKS Bradford
Anna Caughey - Kensho Karate Club
Math Edwards - JKS Gilwern
Lara Elliott - Kensho Karate Club
Grace Hodgson - JKS York
Samir Karroum - JKS Bradford
Maya McNaught - JKS York
Caitlyn Osbourne - Walsall Karate Dojo
Alfie Redgrave - TKF
Maisie Redgrave - TKF
Charlotte Turton - JKS York